The Wellbeing West London Directory enters its second phase
by Jo Wong, Website Directory Lead
Earlier this year we shared details of our new mental health services directory developed in partnership with the West London NHS Trust, to create an online directory of wellbeing services for adults across Hammersmith, Fulham, Ealing and Hounslow.
We are very pleased to report that the Wellbeing West London Directory launched on 20 April, and has had over 1200 users so far!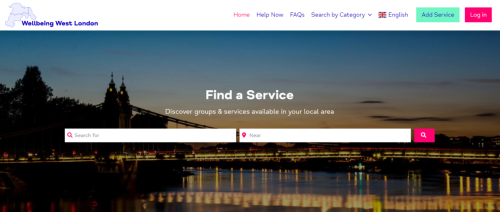 The directory includes listings for a wealth of local services, groups, and organisations which support wellbeing in many different ways: as well as specialist mental health services: there are community groups, employment training providers, museums, carers' groups, food banks, and peer support networks to name just a few.
Our aim is for the directory to reflect the wonderful diversity of our local communities, and help everyone to find the support they need, when they need it.
We are now excited to be taking the project into its second phase to continue expanding the coverage of the directory. We all know that physical and mental health play equally important parts in our overall wellbeing: physical activity not only increases our fitness and reduces the risk of developing several long-term conditions, but is also a great way to boost our mental health. With this in mind, our project's second phase will be focusing on adding more physical wellbeing services to the directory.
Among our listings so far we have some fantastic organisations which support physical health – from running clubs to dance classes, disability sports clubs to healthy living session providers – and we would love to have more!
If you run an organisation which supports physical wellbeing for adults in and around the Hammersmith, Fulham, Ealing and Hounslow area, please do email us at [email protected] and we will be in touch to get a listing set up for you. There is no charge to have your organisation listed on the Wellbeing West London Directory.
We will also be continuing to add listings on an ongoing basis for organisations which support mental wellbeing, so please don't hesitate to contact us even if your organisation doesn't offer physical health services.
If you are a local resident looking for physical wellbeing support, or a healthcare professional seeking support for your patients, do keep an eye on our Physical Health listings  in the coming weeks for details of services near you – and please do get in touch at [email protected] if you have any questions or feedback.
We are very much looking forward to developing the Wellbeing West London Directory further, and continuing to expand the support that it can offer all our local residents with their wellbeing.
Sign up for our Newsletter
Sign up here for our monthly newsletter of mental health tips and advice, as well as to know what we're up to.
We have newsletters for adults, children and young people, parents, and education staff.
Posted on: 28th June 2022