Wellbeing West London Directory Project
Did you know that there are hundreds of organisations which help to support mental health and wellbeing in Hammersmith, Fulham, Ealing, and Hounslow?
While we are very lucky to have so many fantastic sources of support across our three boroughs, here at HFEH Mind we know it can sometimes be challenging to find the right services when you need them.
That's why we are excited to announce our new project, developed in partnership with West London NHS Trust, to help make the process easier.
Wellbeing West London will be a searchable online directory of wellbeing services across Hammersmith, Fulham, Ealing and Hounslow, its aim is to help members of the public find support when they need it, and to assist healthcare staff in signposting their clients to relevant services. Currently the directory is in its development stages, and we are looking forward to launching it later this spring.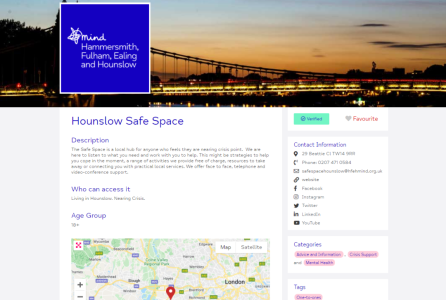 How will the Wellbeing West London Directory work?
Each service included on the directory will have its own listing page, where you will be able to find a summary of the service's activities, information on who can access it, its contact details, links to its website and social media, and a map so you can see at a glance where it is located.
You will be able to search the directory for services via a free text search (just like you would on a search engine such as Google) or by browsing categories such as Counselling or LGBTQ+ Support. The directory will also be searchable by location so you can find the services which are closest to you.
What kinds of services will be listed on Wellbeing West London?
We know that wellbeing support can come in many forms, so we have set out to include a wide range of services, organisations and groups to reflect the diverse needs of our communities. As well as mental health services such as advocacy, psychotherapy and crisis support, the directory listings added so far include faith groups, community projects, centres supporting refugees and asylum seekers, art and craft associations and drama groups.
Will the directory include services for children and young people?
While some of the organisations listed on Wellbeing West London provide support to children and young people, its main focus is on wellbeing support services for adults. If you are looking specifically for children's and young people's services, we recommend visiting Best For You where you will be able to find the support you need.
I would like to have my service listed on Wellbeing West London. How do I find out more?
If you run an organisation which helps to support wellbeing for adults in the Hammersmith, Fulham, Ealing and Hounslow area, we would love to hear from you! Simply email us at [email protected] and we will be in touch to confirm your service's details with you. There is no charge to have your service listed on the directory.
When will Wellbeing West London be launched?
We are currently adding listings to the directory and it will be launched by the end of April. Keep an eye on our social media for more information!
I need to find services before April – what should I do?
Please contact our Adult Services team on 0208 571 7454 or [email protected] and we will be happy to signpost you to relevant services.
If you need help urgently, please see our Help Now page.
Sign up for our Newsletter
Sign up here for our monthly newsletter of mental health tips and advice, as well as to know what we're up to.
We have newsletters for adults, children and young people, parents, and education staff.
Posted on: 16th March 2022