The World I Want to See & My World Toolkit
Mind in Hammersmith, Fulham, Ealing and Hounslow and Cephas Williams teamed up with Out of Home media owner Clear Channel one year on from the murder of George Floyd to promote a message of hope from Black boys in the community. 
Join our My World Toolkit mailing list
'The World I Want to See' is a collection of letters from, and portraits of Black boys in London published one year on from the murder of George Floyd. Inspired by 'Letter to Zion'; 'The World I Want To See' has been designed to put the pen in the hands of Black boys through a series of workshops. 
In 2020, Cephas wrote 'Letter to Zion', a public letter to his son who was born during the George Floyd protests, expressing his hopes and dreams for his son's future. His letter and the image of him holding his son, has since been featured on billboards across the country.  
'The World I Want to See' workshops involved Cephas sharing his journey – both struggles and successes as a young Black man growing up in London. Within the programme HEFH Mind links key points of Cephas's story to themes around mental health and wellbeing. 
Within these workshops, Black boys wrote letters to their older selves about the world they would like to see and what they need to do to create it. Through writing, it was hoped that the boys could explore and process their thoughts and feelings, particularly drawing on the impact of the pandemic and the horrendous murder of George Floyd last year. As well as reflecting on the past, the boys were asked to write about the type of world they would like to see, what needs to change in the world to make it a better place and who they need to be in order to make that vision a reality.
One of the boys, aged 14 said:
We should be in a space where we all feel safe no matter our race. I have vowed to contribute positively to the world I want to see. So to my future self, if you are reading this I hope I have made you proud.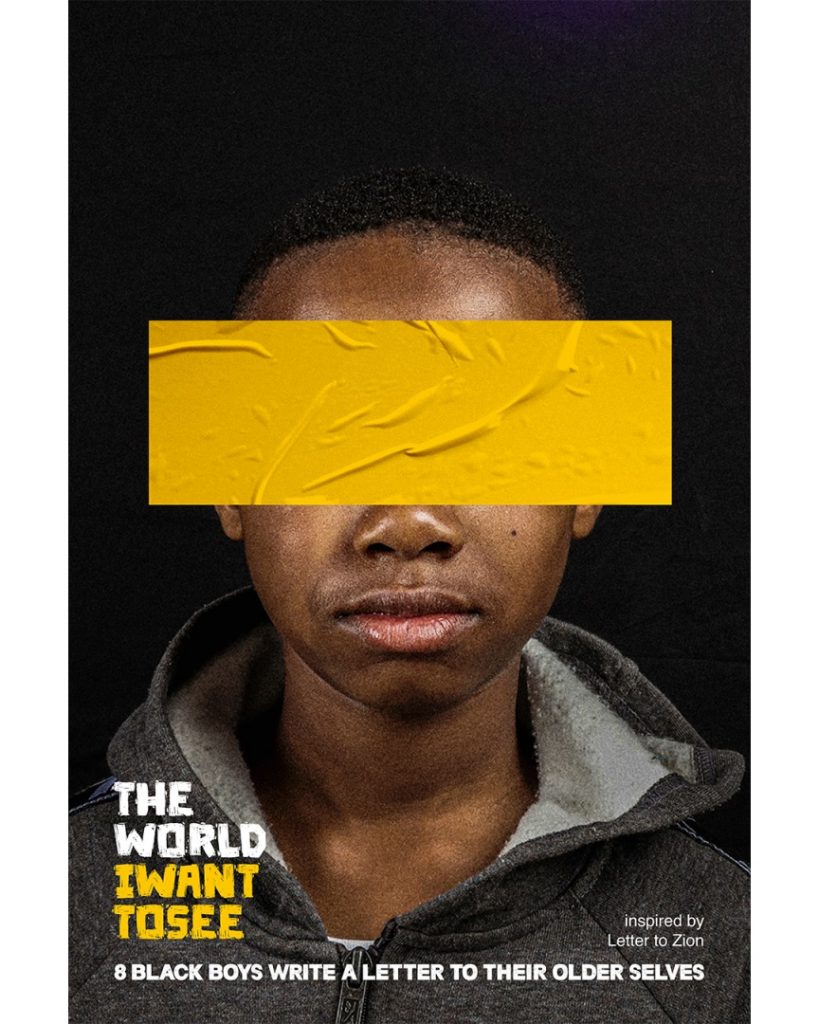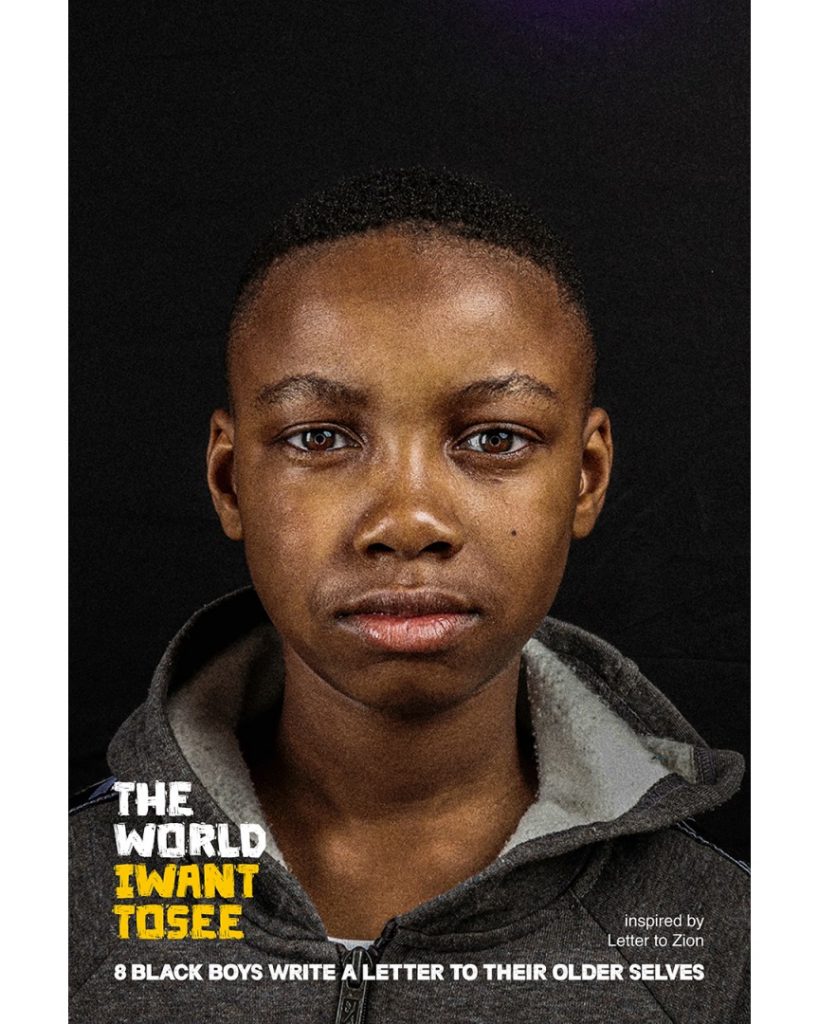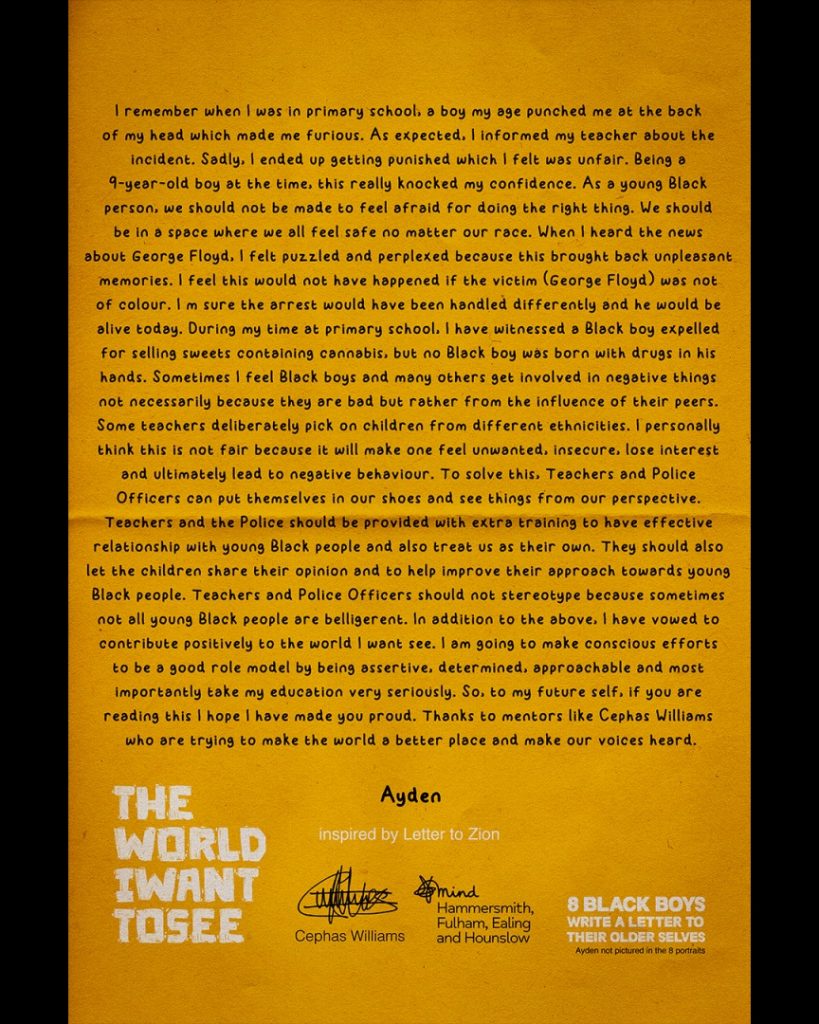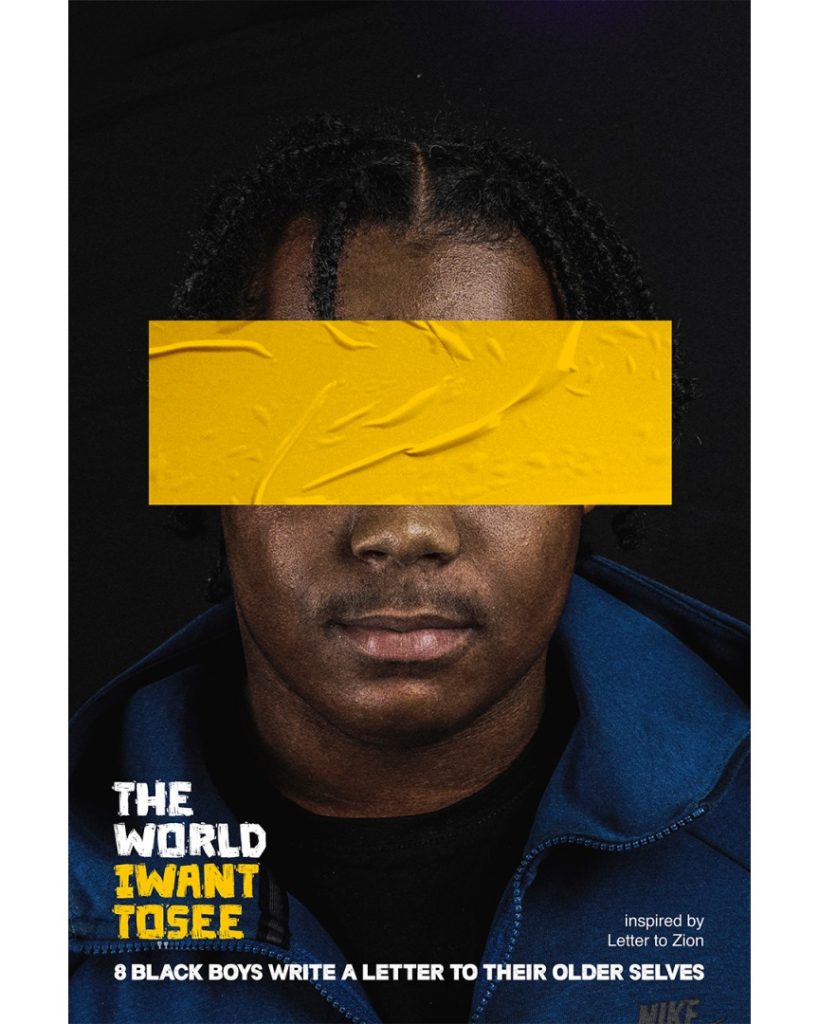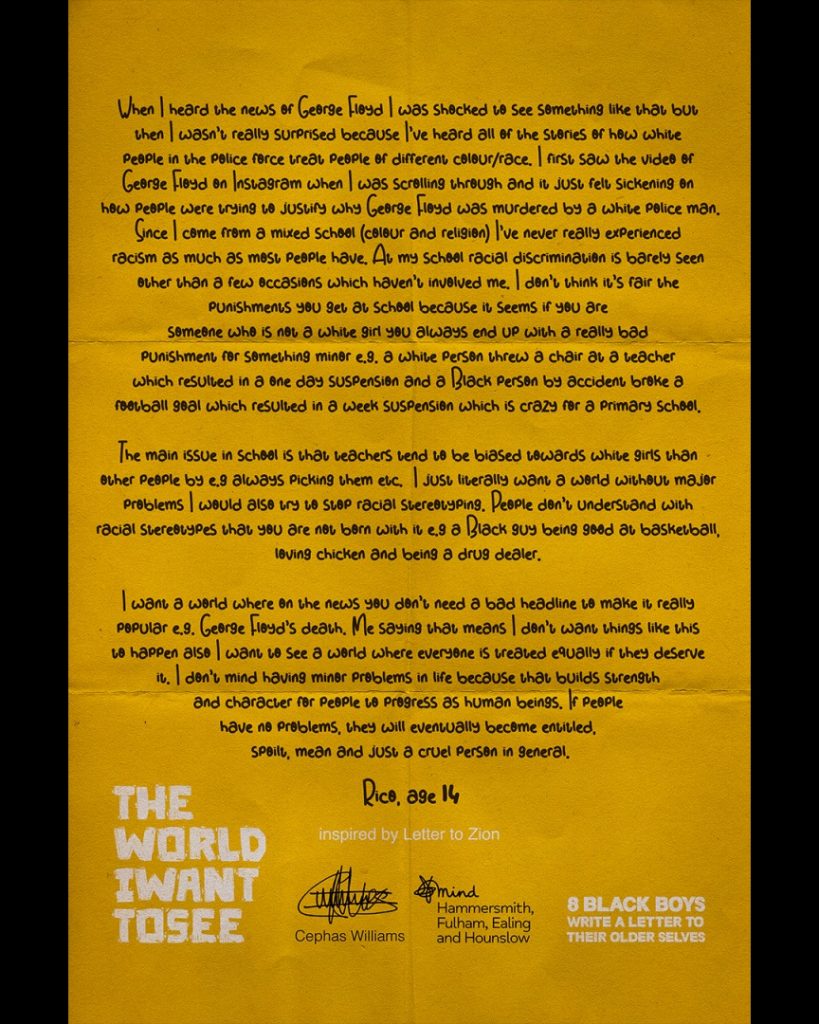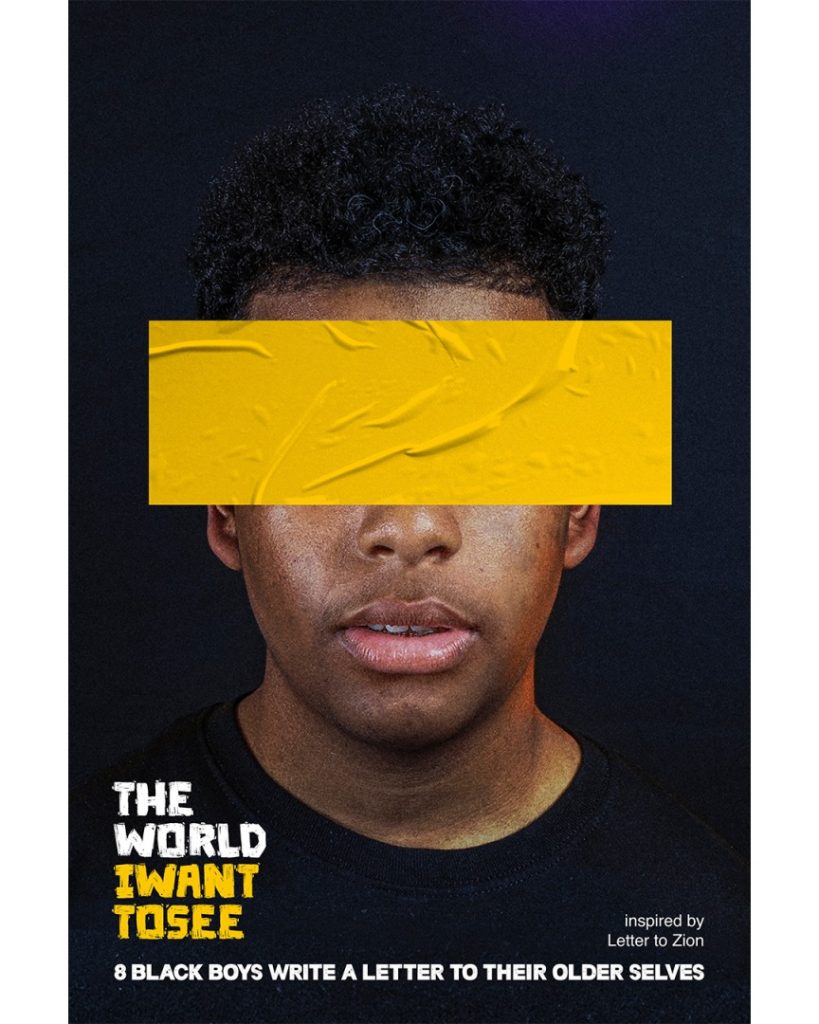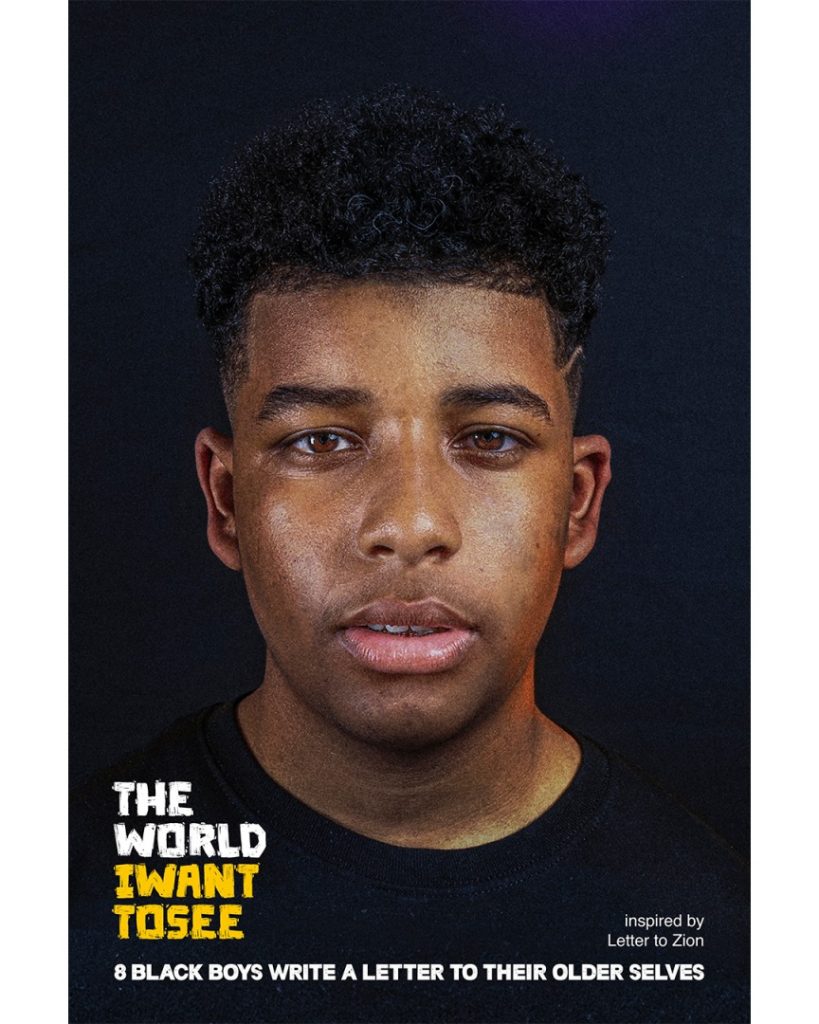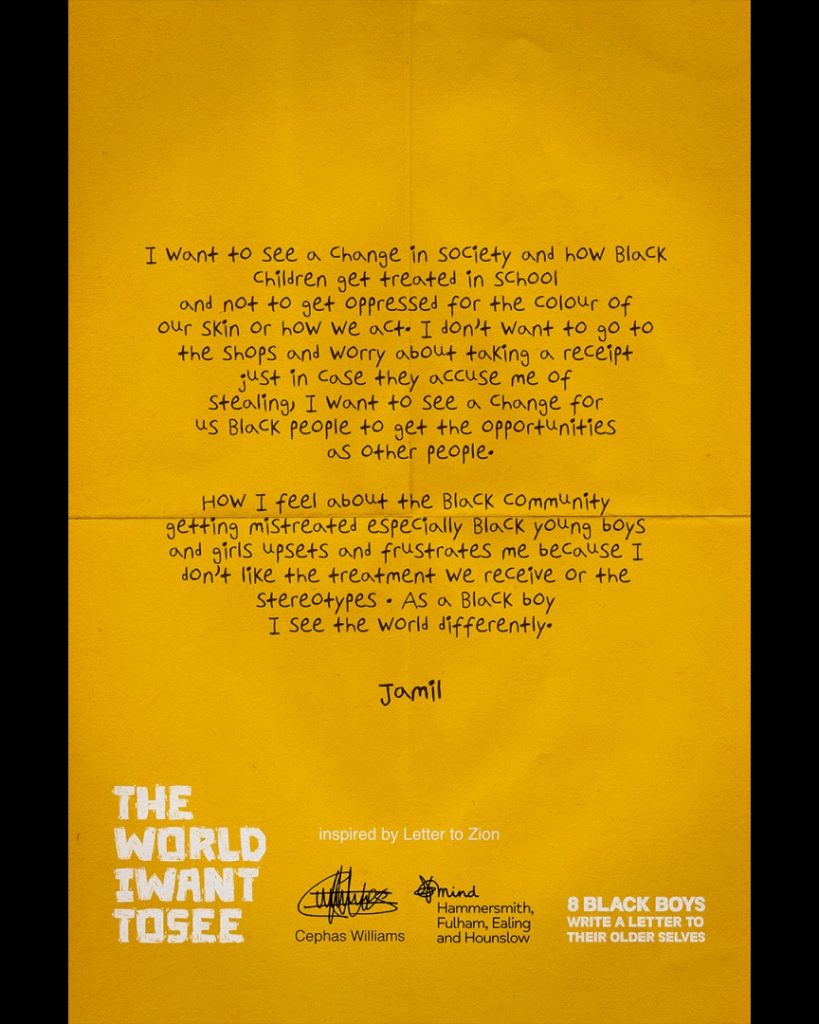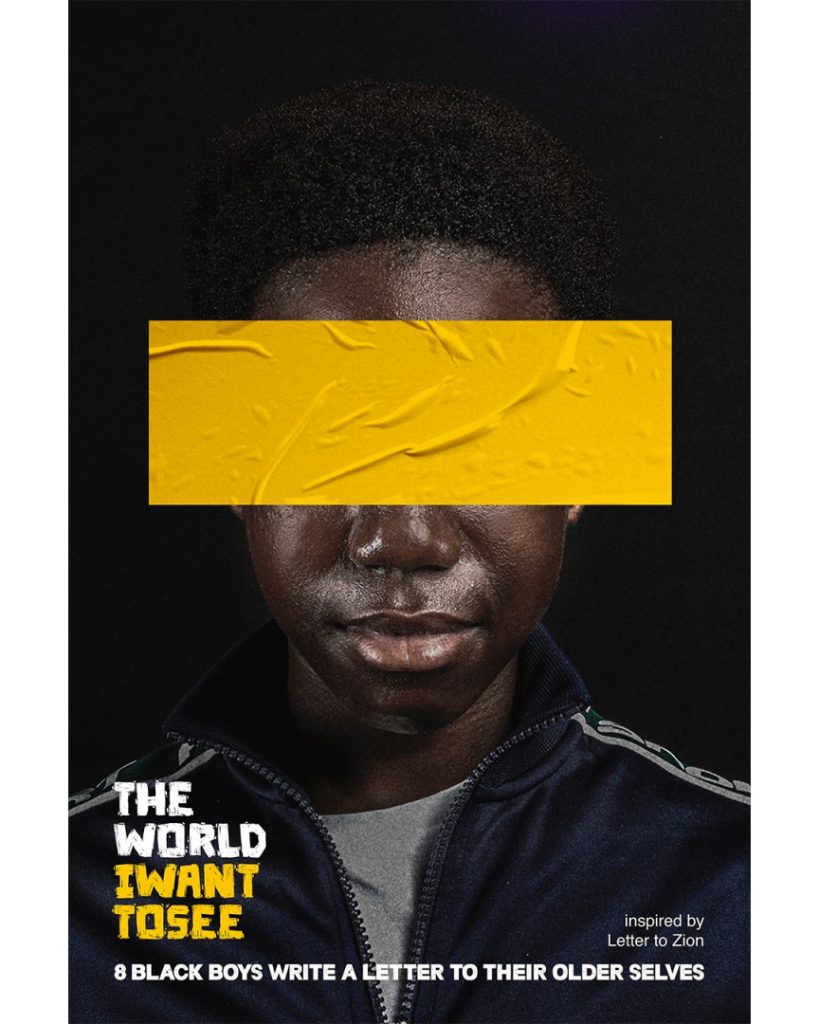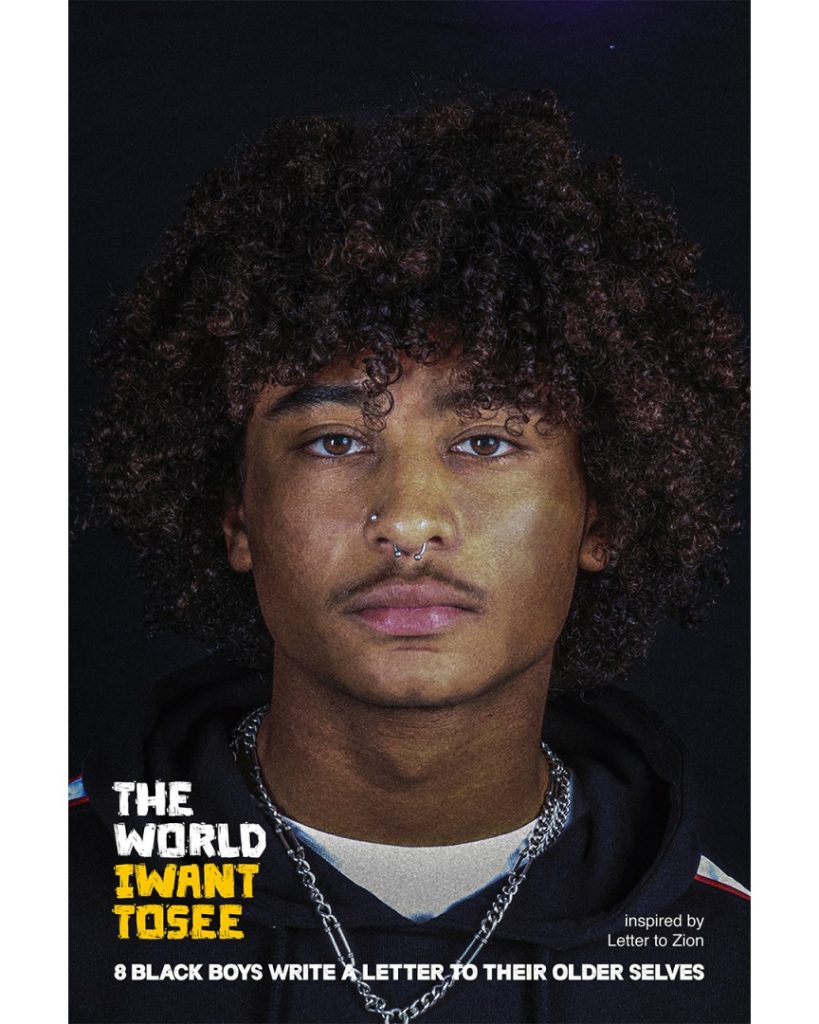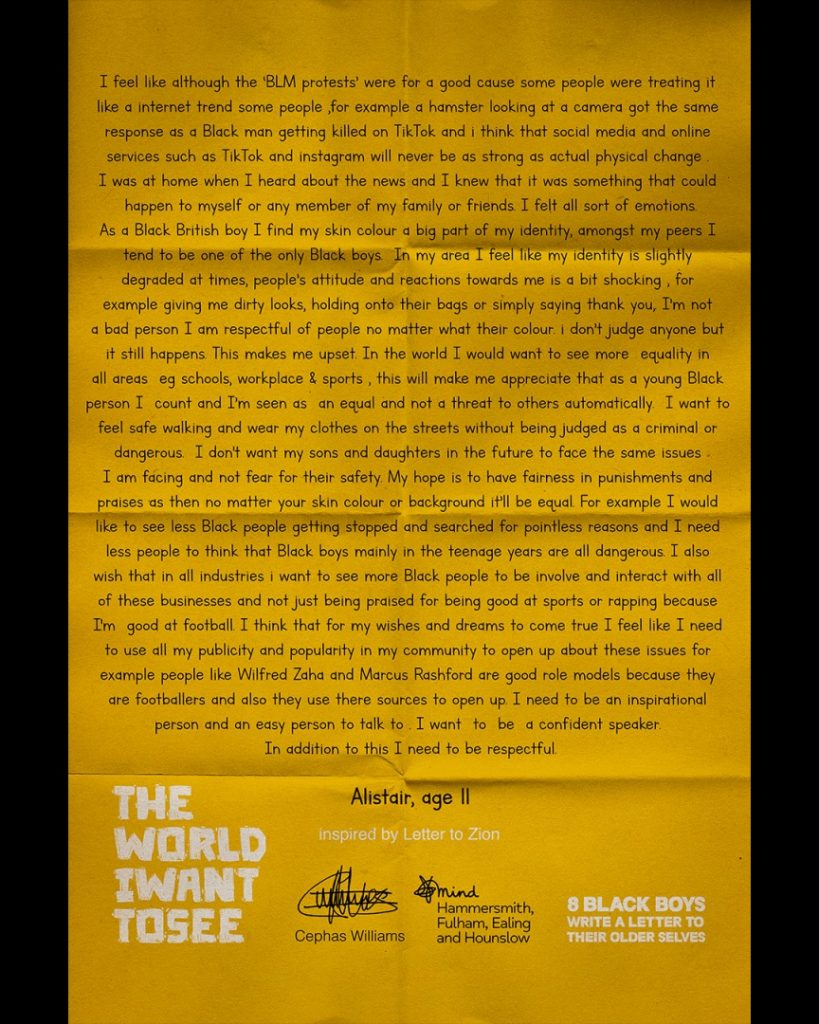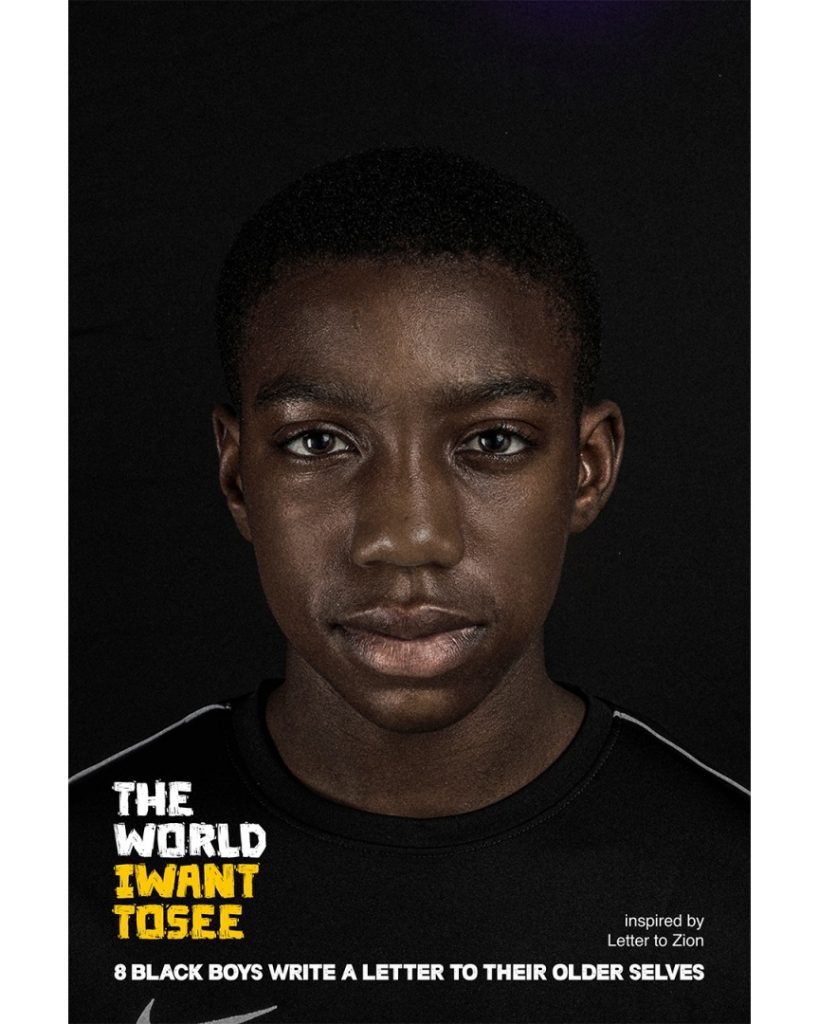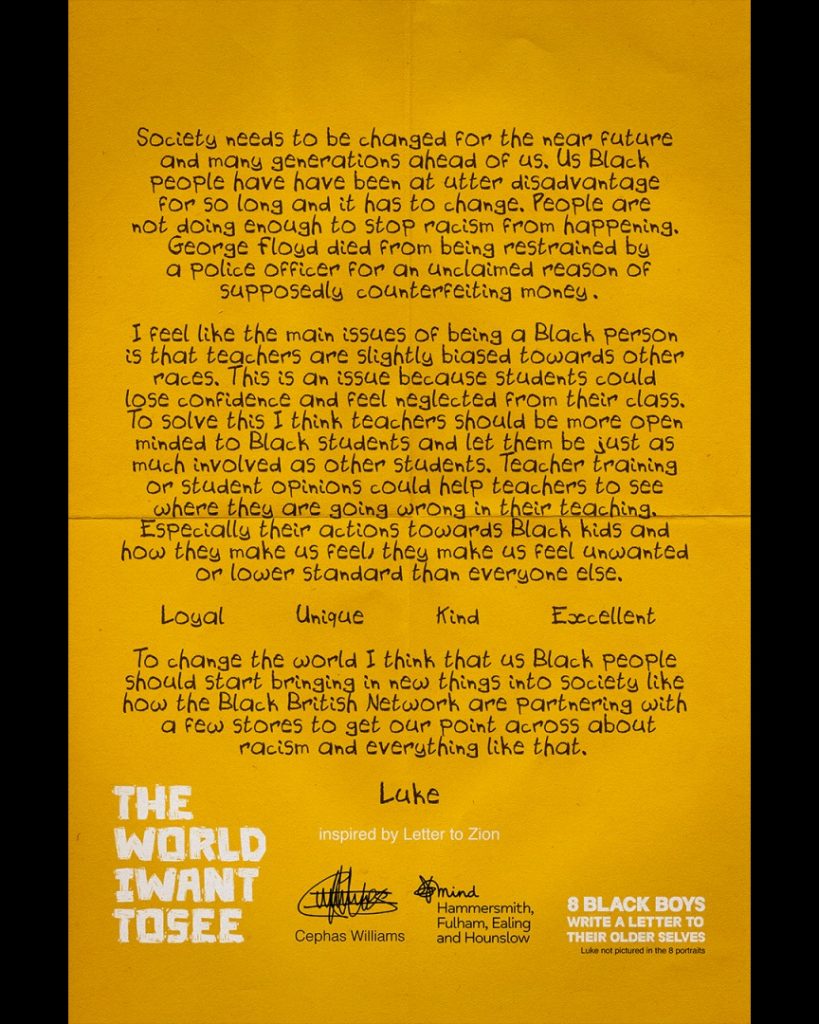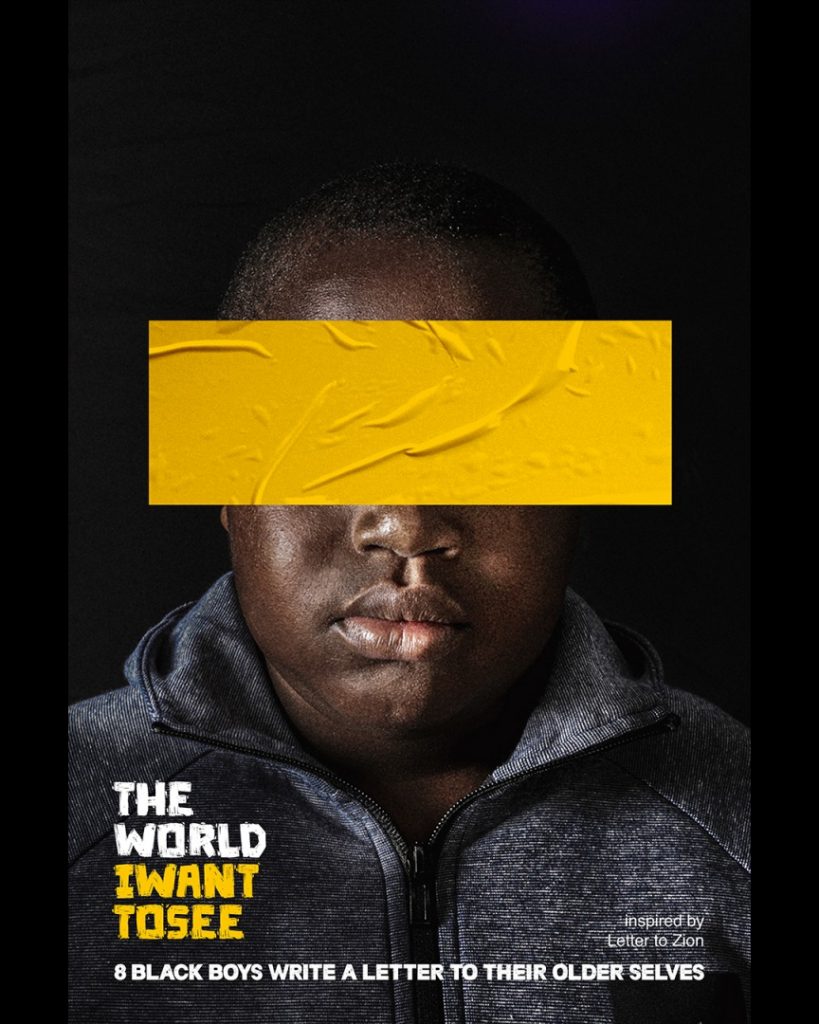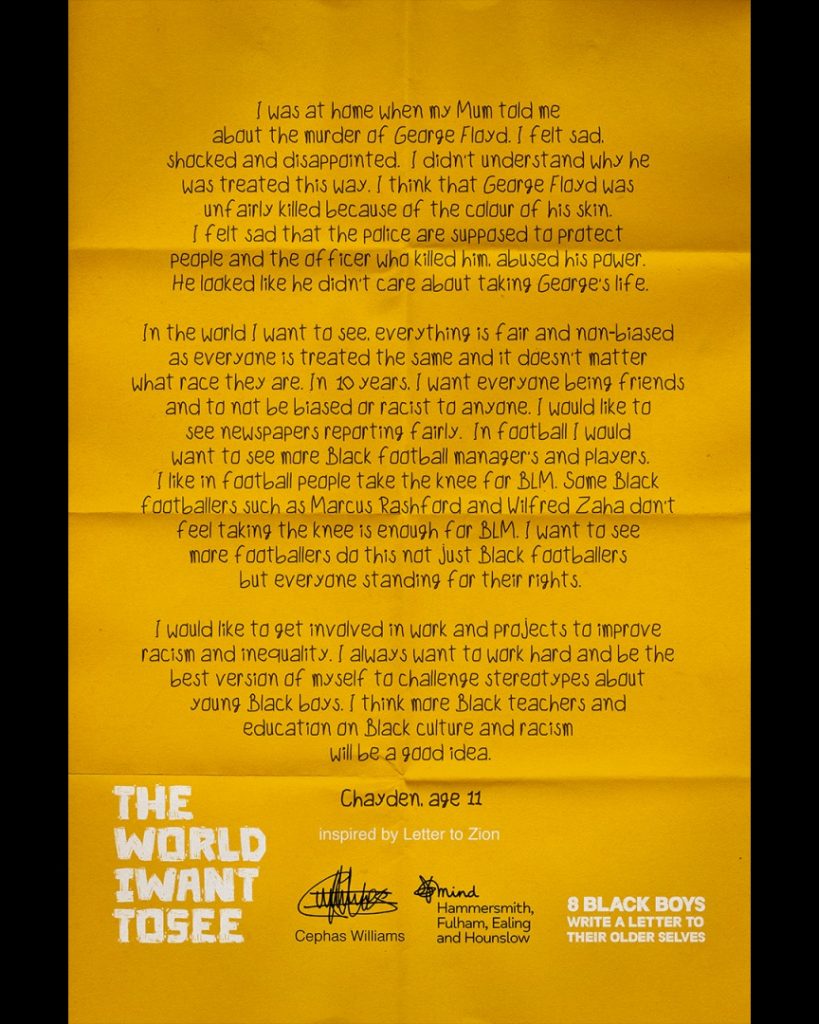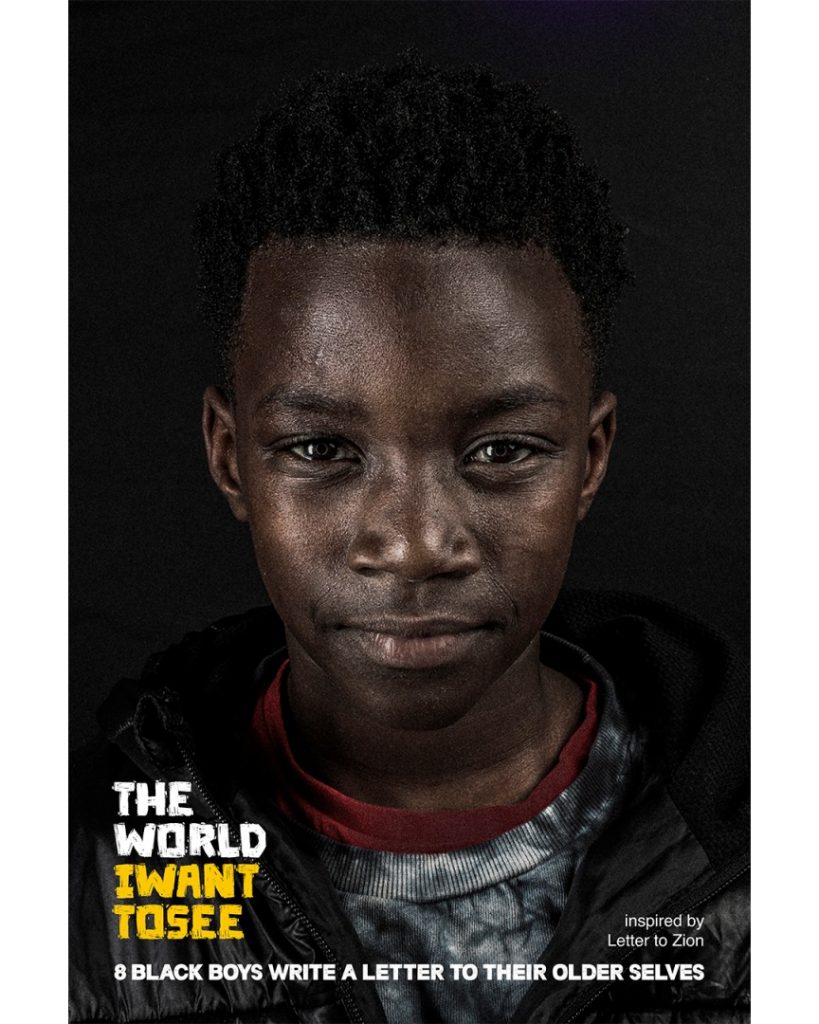 For this series Cephas Williams has photographed 8 Black boys. The portraits follow his iconic photographic tone of voice,  with all the boys looking directly into the lens. Each image comes in a sequence of 3; Image 1 is a portrait of the boys with their eyes covered. Image 2 is a portrait of the boys looking into the camera lens. Image 3 is a collection of 8 letters written by 8 boys who took part in the programme.
HFEH Mind is creating a tool kit in consultation with the Black boys who took part in the workshop, and the charity's service user co-production group. The toolkit will draw inspiration from 'The World I Want To See' and better equip schools to address racism and support those affected. 
Nana Owusu, Head of Youth Services and Clinical Lead for HFEH Mind said:
Mind research shows that the pandemic has negatively impacted the nation's mental health, with young people and those from different racialised communities disproportionately affected. When you add to that the horrendous racism and police brutality we have recently witnessed, it's no surprise that Black boys may be struggling with their mental health right now.

As we come out of the pandemic, we need to take action. It's vital that the UK Government puts mental health at the heart of its recovery, with a particular focus on tackling the disproportionate level of detentions under the Mental Health Act among Black men. It's part of our mission to tackle mental health inequities linked to the impact of racism, and the toolkit is part of this fight for mental health.
Media coverage
Happiful Magazine 
Diversity Q 
Alt Africa 
Health Reporter 
London Post