Services for Children & Young People
The youth team provide a range of mental health services across West London schools and colleges. We are passionate about raising awareness of mental health issues and challenging stigma. All of our services provide information, tools and techniques to promote a young person's mental health and wellbeing. 
We are pioneering within the youth mental health field and our services promote a whole school approach to wellbeing in education. We survey the whole school, including pupils, teachers and parents. Then we assess which interventions would best suit the school's needs. These might include workshops, advice and training.
Whether you're a young person, a teacher or a commissioner, get in contact with us to find out what our youth team can offer you. Email: [email protected] Telephone: 020 7471 0592
1:1 Advice & Support
Mental Health Support Teams for Schools
Our Mental Health Support Teams work across 56 schools, both primary and secondary, throughout West London, delivering evidence-based interventions to support young people with mild to moderate mental health issues. We offer personalised face to face work delivering effective brief, low-intensity interventions for young people in secondary schools (and for the parents of primary school children) who are experiencing anxiety, low mood, friendship or behavioural difficulties.
Next step: This service is not available in all schools. To find out more contact the Designated Mental Health Link (DMHL) in your child's school or email [email protected]
Be Kind to Your Mind
Our Be Kind to Your Mind project, funded by West London, Central London and Hammersmith & Fulham CCGs, is free for Non-Mental Health Support Team Schools and Colleges in Hammersmith & Fulham, Kensington & Chelsea.
Pressures related to self-identity, puberty changes, moving to secondary school, exam pressures, career options and further education can impact upon young people's mental health and wellbeing. Our Be Kind To Your Mind project has been developed specifically for students going through a period of transition and offers three services to schools and colleges.
Art Psychotherapy
Art Psychotherapy provides children and young people a supportive and non-judgmental space to explore the feelings and thoughts that may be concerning them. It helps develop self-awareness, self-confidence, managing stress and anxiety, and for learning to put words to experiences and feelings that may otherwise be difficult. It can prevent and treat poor mental health and promote wellbeing. We are working in partnership with Mind in Brent & Wandsworth and Children & Adolescent Mental Health Services (CAMHS) to provide free art psychotherapy services to primary, secondary and alternative provision schools. 
Next steps: This service is currently full and we are not able to accept new referrals. Please continue to check the website for future availability. 
Workshops & Groups
Wellbeing Advice Service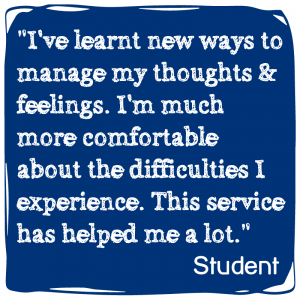 This  service provides practical one-to-one wellbeing support in schools and colleges to young people aged 16 – 25. This is an early intervention service that has been specially designed to support young people through periods of transition and change into adulthood and further education and employment, which research has shown can be a highly stressful time, often impacting young people's mental health and wellbeing.
The service is designed to increase student's resilience as well as their confidence in accessing available support services. By promoting positive practice around mental health and equipping young people with coping strategies, the wellbeing advice service aims to support students to better manage their own wellbeing.
Students may access the service for a number of reasons that may be affecting their mental health and wellbeing. These can include:
Managing exam stress
Coping with student life
Coping with difficult emotions
Problems with sleeping
Managing difficult relationships
Next steps
This service is currently full and we are not able to accept new referrals. Please continue to check the website for future availability. 
Learn Well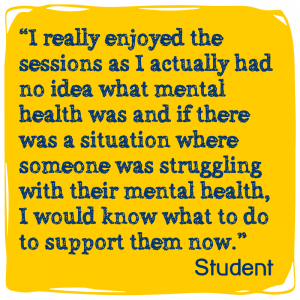 Learn Well offers preventative, interactive and fun psychoeducational workshops for students designed to increase mental health awareness and resilience. A full programme of up to 7 workshops is available to students aged 10-12 years old, and one off workshops are available for sixth form and college students.
Topics include:
Mental health awareness
Stress & building resilience
5 ways to wellbeing
Coping with change
Mindfulness
Digital wellbeing
Confidence & self-esteem
Food mood & sleep
Understanding difficult emotions
Next steps
Learn Well can be delivered on-site or virtually. Currently accepting bookings until March 2021. To find out more or book Learn Well, please contact [email protected]