Mental Health Services for Children & Young People
The youth team provide a range of mental health services across West London schools and colleges. We are passionate about raising awareness of mental health issues and challenging stigma. All of our services provide information, tools and techniques to promote a young person's mental health and wellbeing. 
We are pioneering within the youth mental health field and our services promote a whole school approach to wellbeing in education. We survey the whole school, including pupils, teachers and parents. Then we assess which interventions would best suit the school's needs. These might include workshops, advice and training.
Whether you're a young person, a teacher or a commissioner, get in contact with us to find out what our youth team can offer you. Email: [email protected] Telephone: 020 7471 0592
1:1 Advice & Support:
Mental Health Support Teams for Schools
Our Mental Health Support Teams work across 56 schools, both primary and secondary, throughout West London, delivering evidence-based interventions to support young people with mild to moderate mental health issues. We offer personalised face to face work delivering effective brief, low-intensity interventions for young people in secondary schools (and for the parents of primary school children) who are experiencing anxiety, low mood, friendship or behavioural difficulties.
Next step: This service is not available in all schools. To find out more contact the Designated Mental Health Link (DMHL) in your child's school or email [email protected]
Mental Health Workshops & Groups:
Wellbeing Advice Service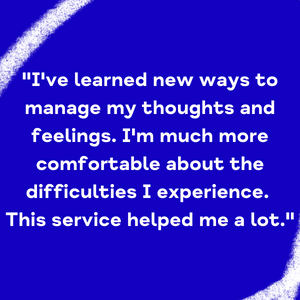 Wellbeing advisers help young people find support when they're feeling down or anxious. They're paired with a young person and can provide advice and support around mental health. Then they catch up later to see how things are going, in person, or by phone or video call. This support can be ongoing if needed, providing young people with a consistent level of help for their needs.  
Once our young people feel satisfied, confident, and empowered with their support in the community our wellbeing advisers will bring their sessions to a close, ensuring the young person is signposted to get further help if they need it.
Wellbeing advisers are free
Advisers are trained to work with young people
Advisers aren't counsellors
You might have to wait to see an adviser
You can bring a parent or trusted adult
Format: One-to-one support via Face to Face, Video call (Zoom) and telephone
Who is it for: 11- to 24-year-olds who are based in Hammersmith and Fulham, Ealing, and Hounslow
What's next: to sign up to the Wellbeing Advisers fill out this form
Learn Well Workshops
Our psycho-educational workshops for young people aged 10 to 25 help to improve psychological wellbeing by building resilience, challenging stigma, promoting positive wellbeing strategies and raising awareness of support options.
Topics:
Mental health awareness and challenging stigma
5 ways to wellbeing
Self-esteem and confidence
Building resilience
Digital wellbeing
Managing stress and academic pressure
Managing difficult emotions
Mindfulness
Sleep hygiene
Relationships
Food and mood
Transitions (to secondary school/college/university/work
Resilience in the workplace
Format: We can deliver workshops individually or as part of a full programme, during PSHE lessons, student events, drop down days, assemblies and teacher training events.
Who is it for? Young people aged 10-25, who are at schools, colleges and youth organisations in Hammersmith, Fulham, Ealing and Hounslow.
Next step: To find out more email [email protected]
HFEH Mind's Young Voice:
Are you aged between 10 and 19?
Would you like to make a difference to mental health services in your area?
If so, we want to hear from you.
There are lots of ways that you could get involved as a Young Advisor for HFEH Mind, including:
Sitting on our monthly panels on Zoom, and providing us with feedback on existing services
Answering online surveys and questionnaires
Helping us to design new mental health projects, resources, and information
Creating videos about mental health for My Mind TV
Influencing the recruitment of our staff by sitting on interview panels
By getting involved, you will meet like-minded people and gain skills, experiences, and a unique opportunity to add to your CV. You will also be compensated for your time.
To become a Young Advisor, you must be:
Aged 10-19
Live in Hammersmith, Fulham, Ealing, and Hounslow, or;
Got to school or college in Hammersmith, Fulham, Kensington, Chelsea, or north Westminster
Be passionate about creating positive change in mental health for young people
For more information and to get involved contact:
Email: [email protected]
If you are under 16, we will need consent from a parent or carer before you can get involved.
Circle
Our Circle service gives children and young people a place to go if they're nearing a mental health crisis.