Youth Services Co-Production Update
By Amy Woodward, Youth Services Co-Production Lead
At HFEH Mind, we believe that the voices of the community, and those accessing our services, our key to improving the work that we do.
Within Youth Services, our aim is that young people are involved in every aspect of our work. Service design is guided by our dedicated group of Young Advisors, who make up HFEH Mind's Young Voice, a name chosen by them.
This month, we're showcasing some of the activities our Young Advisors have been getting involved in, as well as some of our co-production activities more widely.
HFEH Mind's Young Voice Updates
Panel Meetings:
Every month, we meet with our Young Advisors at Panel Meetings. This meeting is held on Zoom and is a space for Young Advisors to provide feedback and insight on new projects within Youth Services.
In January, we were joined by one of our practitioners Jessie Au. She has recently created a targeted programme to be delivered in schools, on self-esteem. Our Young Advisors provided Jessie with valuable feedback on the programme, including activities and overall design.
Following this, our Young Advisors designed cartoon characters for the programme. These characters reflect a 'growth mindset' and a 'fixed mindset' and are designed to support learning. The designs from our Young Advisors are being pulled together and will form the cartoon characters introduced in the programme.
Co-production of My Mind TV:
Recently, several of our Young Advisors got involved in improving user experience of our online video channel, My Mind TV.
These Young Advisors provided valuable insight for our developers, and their feedback will help make My Mind TV better for all young people using it.
Videos for Mental Health Support Teams:
The Mental Health Support Teams (MHSTs) are currently working with service users to demystify the support offered.
These videos include voices of existing and previous service users, reflecting on what they expected from the service, and their actual experiences during 1.1 support.
These videos will be shared with young people accessing 1.1 support from the MHSTs, and hopefully settle any nerves they might have.
Wellbeing Ambassadors at St John XXIII Catholic Primary School
Recently, we trained fourteen students at St John XXIII Catholic Primary School in Hammersmith and Fulham to become Wellbeing Ambassadors.
The Wellbeing Ambassador programme is a youth-led mental health and wellbeing project, which provides training to students who want to champion positive mental health and wellbeing in their school. Following the training, the Ambassadors have a responsibility for leading and promoting mental health and wellbeing throughout the school.
At St John XXIII Catholic Primary School, the Ambassadors will be running lunchtime wellbeing sessions for students, focusing on art and sensory activities, and relaxation. They will also be creating mental health and wellbeing displays throughout the school and running events during mental health awareness days.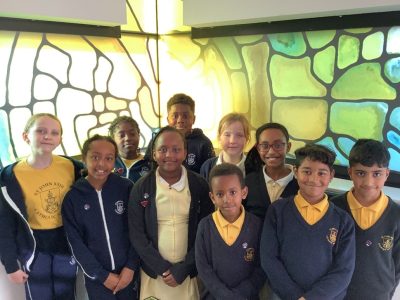 Ten of the fourteen Wellbeing Ambassadors at St John XXIII Catholic Primary School
To find out more about HFEH Minds' Young Voice, take a look at our Children and Young People page.
For more information and to get involved contact:
Phone or text: 07736 043595
Direct message us on Twitter or Instagram
Email: [email protected]
If you are under 16, we will need consent from a parent or carer before you can get involved.
Sign up for our Newsletter
Sign up here for our monthly newsletter of mental health tips and advice, as well as to know what we're up to.
We have newsletters for adults, children and young people, parents, and education staff.
Posted on: 21st February 2022